Series Introduction: I live in a small house. I work in a small office in a small church. For those reasons and others I will never have a huge library. When I add a book I almost always remove a book, a practice that allows me to focus on quality over quantity. Over the past couple of years I have focused on building a collection of commentaries that will include only the best volumes on each book of the Bible. I know when I'm in way over my head, so before I began I collected every good resource I could find that rated and reviewed commentaries. I studied them and then began my collection on the basis of what the experts told me. Since I did all of that work, and since I continue to keep up with the project, I thought it might be helpful to share the recommendations.
My focus is on newer commentaries (at least in part because most of the classics are now freely or cheaply available) and I am offering approximately 5 recommendations for each book of the Bible, alternating between the Old Testament and the New. Today I have turned to the experts to find what they say about Ezra & Nehemiah.
Ezra & Nehemiah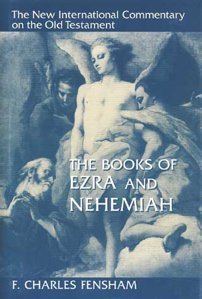 F. Charles Fensham – The Books of Ezra and Nehemiah (New International Commentary on the Old Testament). Most commentators on the commentaries rate this as the best volume on Ezra and Nehemiah. Fensham takes the traditional approach to the books' dating, authorship and other elements. His strength is apparently in his emphasis on history and culture. Jim Rosscup says this commentary is "an evangelical effort knowledgeably rich in exegesis with a firm grasp of Hebrew, matters of introduction, and solid explanation of many of the verses." (Amazon, Westminster Books)
H.G.M. Williamson – Ezra/Nehemiah (Word Biblical Commentary). There is not only near-consensus on the best commentary on Ezra and Nehemiah, but also near-consensus on the second best–Williamson's contribution to the WBC. Williamson takes a more scholarly and technical approach than Fensham, making this a little bit more difficult to read. His strength is in word study, background, customs and the like. With Fensham this should make a pretty good one-two punch in understanding and interpreting the text. (Amazon, Westminster Books)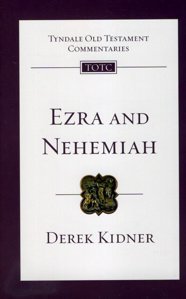 Derek Kidner – Ezra & Nehemiah (Tyndale Old Testament Commentaries). Just a few days ago I was reading a commentary by Kidner and remarking on his ability to distill each section of Scripture down to its essence and follow his explanation with useful application. His commentary on Ezra and Nehemiah is necessarily succinct, due to the limitations of the TOTC, but is apparently excellent and the best place to go for an entry-level work suitable for all readers. (Amazon, Westminster Books)
Raymond Brown – The Message of Nehemiah (Bible Speaks Today). After the first three volumes, it seems that the quality drops off a little bit (though three commentaries is probably plenty for almost any purpose). Raymond Brown's contribution to the BST covers only Nehemiah but apparently does so well. The BST is similar to the TOTC in that it is easy to read and geared toward a general audience. (Amazon, Westminster Books)
Mervin Breneman – Ezra, Nehemiah, Esther (New American Commentary). Keith Mathison says, "Breneman's commentary does not compare with Fensham's and Williamson's, but for those seeking helpful summaries of the more technical work that has been done on these books, his is a helpful work." The other experts seem to agree that it should not be at the top of your list, but that it is helpful in its own right. Rosscup especially commends Breneman for his conservative approach and his insistence on the reliability of the text. (Amazon)
Let me close with a couple of questions: Have you ever preached through Ezra or Nehemiah? What are your preferred commentaries? Are there some you've found particularly helpful for preaching or for devotional purposes?
More in

Best Commentaries:
View Entire Series